On a beautiful sunny afternoon we were delighted to welcome a special group of visitors to join us in celebrating, and giving thanks for being able to open to the public once more, and also to appreciate the Giordano painting now beautifully restored and in its new place alongside the Sutton Memorial in the Chapel.
We were joined by William Russell, Lord Mayor of London and the Lady Mayoress, Sarah Mullally, Bishop of London, the Mayor of Islington (Councillor Troy Gallagher) and Mayor's Consort (Mary Roberts), and Flora and Sebastian Lyon (major donors). Our Chairman Major General Andrew Ritchie, and Governor Bernadette Cunningham represented the Board. We were also really pleased that Jim Dimond (painting conservator), Nancy Wade (Guildhall Art Gallery), Dr Jeremy Warren (sits on Acceptance in Lieu panel), and Tom Proctor (frame conservator) could join us too.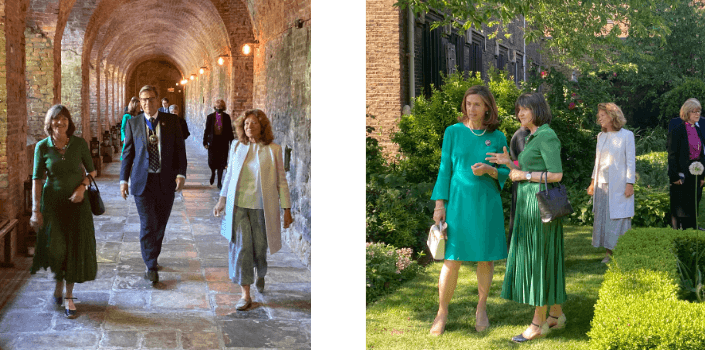 Our guests took a short tour of the Charterhouse with the Master Ann Kenrick, and Deputy CEO Tom Foakes – and then joined Preacher Canon Ann Clarke in the Chapel where a special thanksgiving service took place, with glorious singing by our friends the Pegasus Choir up in the gallery.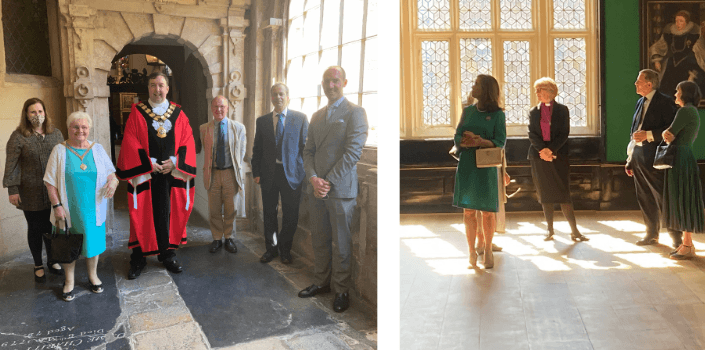 The Lord Mayor of London gave the address below, and this was followed by a prayer of thanks from the Bishop of London, Sarah Mulally.
"It is with great pleasure that I am able to mark the return of Luca Giordano's "Visitation of the Blessed Virgin to St Elizabeth", both to the Charterhouse following its meticulous conservation, and to the Chapel in particular – honouring the intentions of the original donor.
The Charterhouse has a longstanding relationship with the City of London, and as Lord Mayor I am privileged to have enjoyed the Charterhouse's hospitality on several occasions during my year of office…and was delighted to open the Great Chamber after its dramatic refurbishment last year.
I am pleased that the presence of this painting here strengthens further the links between the City of London and the Charterhouse– through the Guildlhall Art Gallery that has  loaned the work through the Acceptance in Lieu scheme.   I would like to thank Jeremy Warren and Elizabeth Scott for their work in ensuring that this loan arrangement continues.
Most importantly, I would like to thank Flora and Sebastian Lyon, whose most generous support for the Charterhouse is demonstrated in so many ways.   In supporting the conservation and redisplay of this painting, they have ensured that Giordano's original composition has been revealed from the layers of surface dirt, and that the vibrancy of colour is once again enlivening the canvas.
In addition, Jim Dimond's conservation of the paint surface, and Tom Proctor's consolidation of the frame and insertion of conservation-grade glazing, mean that the painting will be preserved for all Charterhouse visitors to enjoy. I am delighted that they are here to see the fruits of their labour.
It has been a challenging year for all of us and in particular for the Charterhouse in many ways. Today the Charterhouse once more opened its doors to visitors. Revealing this baroque masterpiece that has been so carefully revived, is a fitting metaphor for the Charterhouse's own reawakening following its doors being opened once more."
Canon Ann Clarke read the following prayer for Artists, Musicians and Crafts People by M J Kramer (The Canterbury Book of New Parish Prayers)
Heavenly Father, we thank you for all who dedicate their lives to the arts.
Refresh them with your Spirit, that they may continue to stimulate our wonder and insight, and may find fulfilment in all they produce.
Lord, we thank you that you have shared your creative Spirit with human beings, that we, like you, may fashion things that bring delight and joy and peace.                                                          
Pour out richly your spirit of inspiration, we pray, on all painters and sculptors, on all musicians and composers, on all writers and thinkers and on all whose work enriches our lives and leads us to you, and grant to each one of us, we pray, the skill and confidence to know how we can take part in your great gift of creativity, through Jesus Christ our Lord.