Jack Evans, a member of our Collections volunteer team, has taken a closer look at the life of former Charterhouse Brother Tobias Hume.
Among the countless plaques in the Charterhouse Chapel, one is dedicated to Tobias Hume, simply labelled 'Musician and Soldier'. Yet even these few words do nothing to sum up the life of one of the Charterhouse's intriguing (yet notorious) residents. What is even more mysterious is that there are scant details of his life, save from a petition he made when he was a brother at the Charterhouse (which will be explored further below), but also a considerable legacy he left to the Baroque culture of the 17th century.
In his petition, Hume summed his life up as thus: 'My life hath beene [sic] a Souldier, and my idleness addicted to Musicke.' Hume's life is often given between the years 1569/79, based on the age of his admittance to the Charterhouse in 1639 (sixty years old being the age of admittance), but we know little of his early life, or how he became 'addicted to Musicke'.[1] What we certainly do know is that he spent the majority of his life as a soldier, specifically a mercenary in the company of foreign armies, and even then, sources are checkered. Various accounts list him as serving in Poland, Sweden, Russia, and even Hungary; the European continent then being dominated by almost continuous warfare throughout the 17th century. A sizeable bulk of these armies was made up of Scottish mercenaries, often employed in foraging parties. There would be a wide range of motives for serving: a sense of adventure, a chance to partake in the spoils of war, or because their Protestant religious convictions were on level with Sweden, with a chance to fight against Catholicism.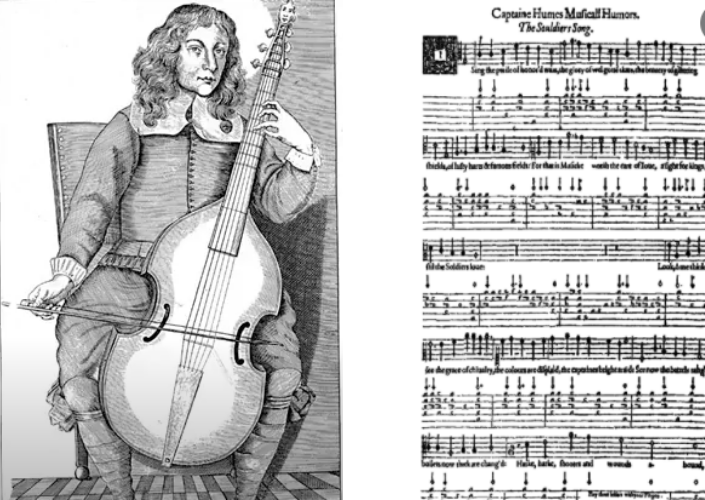 But Hume is (and should be) more widely more recognised for his musical compositions in the Baroque period, a period of musical experimentation and innovation. Hume contributed to the scene in his own way, with his patronage of his favourite instrument, the lyra viol, an early forerunner of the violin. Hume was even popular enough to enjoy some form of royal patronage; his compositions were clearly meant to be played at the royal court, and there's even speculation that Hume himself may have played before Queen Anne, consort to James I, and who was known to be a patron of Baroque Culture. Hume published two compilations in his lifetime; Musicall Humors (1605), which is notable for containing the largest collection of music for the lyra viol of the seventeenth century. Captain Hume's Poeticall Musicke (1607) followed shortly after. It's at this point that Hume's life gets a bit fuzzy.
The captain was admitted to the Charterhouse around Christmas, 1629. Already in operation for the best part of 15 years, the 'hospital' (as it was then known), it had around sixty brothers in its care, , and whose occupations mostly consisted of retired military captains, and sick or maimed soldiers. Whatever of Hume's life at the Charterhouse can be gleaned from a petition he sent in 1642 to King Charles I, when the country was on the cusp of civil war, and one that went into great, almost nonsensical, exaggeration of his Charterhouse life. For example, he complained that he was forced to pawn all of his clothes, and that his lack of food led him to 'walke into the fields to gather Snailes in the nettles, and brought a bagge of them home to eat, and doe now feed on them for want of other meate, to the great shame of this land…'.[2] He even described his 'situation' as being worse than an episode of his soldiering days when he was besieged at Parnü on the coast of modern-day Estonia in the winter of 1609, during the war between the Polish-Lithuanian Commonwealth and Sweden. In the depths of a Baltic blizzard, and with a starving, snowbound garrison reduced to a hundred men, Hume mentions to have eaten 'horse-flesh and bread made of the barke of trees, mingled with hay dust'.[3] Hume even threatened that he would be forced to return to his old days of serving as a mercenary 'to another King' if he was not provided with money, food, and better accommodation. As Stephen Porter has stated in his book on the Charterhouse, these claims are implausible, and there is no evidence to support them.[4]
In any case, this was the final straw for the Charterhouse's governors; his petitions as well as reports of his eccentric behaviour proved to be such an headache that they took the extraordinary measure of 'removing' Hume from the Charterhouse and committing him to Bethlem Hospital due to his 'utterly blasphemous and distempered behaviour in both words and actions.'[5] In any case, this move to London's most infamous asylum was only temporary; Hume was eventually released on unknown grounds, probably sometime after, now being witness to a new war brewing up in his own country. The English Civil War had reached London, which had entered a state of siege with the city's inhabitants throwing up earthworks and barricades to form a defensive ring against a possible strike by the Royalist Army, which never materialised in the end. Incidentally, the Charterhouse was witness to this, with one bastion forming around the middle of St. John's High Street. What Hume's views on this unknown; he is tersely recorded passing away at the Charterhouse in April 1645, with little fanfare or acknowledgement of his musical prowess.[6]
In today's context, Hume's 'career' in the service of foreign powers can be considered quite controversial, even in an age where such violence and conflict were commonplace, where the boundaries between innocent and guilty were often blurred (and notwithstanding his often-exaggerated accounts of his service). As a musician however, Hume deserves better. His music has been recorded and released onto albums and is even available to stream on Spotify. And recently in 2019, international violin soloist Peter Sheppard Skǣrved played a selection of Hume's compositions within the intimate space of the Charterhouse chapel. (You can view a performance of a Tobias Hume song  here:). More than a mere name on a wall, I hope that his music will further get the praise it so deserves.
[1] 'The humble Petition of Tobias Hume, one of the poore brethren of that famous Foundation of the Charter House'
[2] 'Hume's Petition'
[3] Ibid.
[4] Stephen Porter, The London Charterhouse, (2009)
[5] Robert J. Wycherly, The Early Public Lunatic Institutions of England Part I: A Comprehensive Model of their Governance and Management, (2017)
[6] Porter, The London Charterhouse
Main image: Georg Cöler, 'Scottish Mercenaries at the Baltic port of Stettin' (now Szczecin, Poland), 1630-31. ©Wikimedia Commons