The following advertisement was originally published in The illustrated London News on November 10, 1951.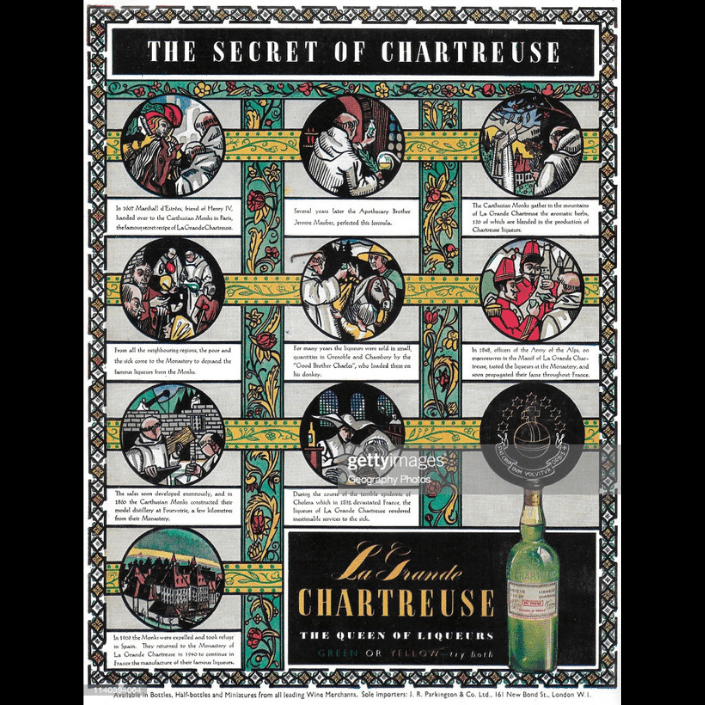 It was recently discovered in the Charterhouse Scrap Book, a book of press clippings dating back to 1797, and provides a short illustrated history of Chartreuse, a pale green or yellow liqueur made by the Carthusian Monks of Grande Chartreuse.
Grande Chartreuse is the head monastery of the Carthusian order. It is located in the Chartreuse Mountains, north of the city of Grenoble, in the commune of Saint-Pierre-de-Chartreuse, France.
The Carthusian order is supported by the sales of Chartreuse liqueur, which has been popular in France since the early 18th century.
It has been mentioned in many films, books and plays, including Alfred Hitchcock film The Lady Vanishes. In Evelyn Waugh's novel Brideshead Revisited, Anthony Blanche and the narrator Charles Ryder drink Chartreuse after dinner, prompting Anthony to comment: "Real g-g-green Chartreuse, made before the expulsion of the monks. There are five distinct tastes as it trickles over the tongue. It is like swallowing a sp-spectrum."
Charterhouse, which is the English name for a Carthusian monastery, is derived from the word Chartreuse.
You can read more about our historic connection with the Carthusian order here.